The MED1stMR international consortium gathered this April in Madrid, at the Hospital Enfermera María Zendal premises, to present latest developments and advances and plan the field trials that will take place during the last year of the project. The event was hosted by the professionals of the Emergency Medical Service of the Community of Madrid, SUMMA 112.
This General Assembly featured a series of technical presentations, panel discussions, workshops, and interviews that revolved around the planification and execution of the project's field trials, where medical first responders will use novel Mixed Reality technologies to improve MCI training efficiency. Some of the most prominent speakers included Schrom-Feiertag Helmut (Project Coordinator), Daniel García Guirao, Anke Baetzner, Matthias Beutel, Pedro Duque, Birgit Harthum, Rafael Wespi, Markus Karlseder and Dirk Broeckx. The event provided an excellent opportunity for participants to network, exchange ideas, and discover new developments in the field.
During the event, several important updates were announced by IDENER, including the deployment of the project's centric data platform for massive training data collection, storage and processing. This MED1stMR Analytics & Statistics tool (MAS) will extract advances insights of training performance and display relevant information to participants and trainers. These updates are expected to have a profound impact on medical first responders training activities and pave the way for further advancements in the near future.
One noteworthy project showcased at the event was MED1stMR exploitation activities. The team behind the project demonstrated the worth of involving multiple organisations into the discussions of technology adoption. The General Assembly concluded with an exhaustive review of the upcoming field trials organisation. This outcome highlights the importance of involving end users across all project discussions to facilitate technology acceptance and maximise utilization.
Apart from the formal sessions, the event also featured interactive demos and networking events, providing consortium members with the opportunity to explore the vibrant city of Madrid and savor its delectable cuisine.This GA was a valuable experience that broadened our perspective on medical emergency training, and we look forward to attending future editions and staying up-to-date with the latest developments in the field.
In conclusion, we would like to extend our heartfelt gratitude to the hosts, the professionals of the Emergency Medical Service of the Community of Madrid, SUMMA 112, for their warm hospitality and seamless organization of this event. Their efforts made this gathering not only informative and productive but also a truly enjoyable experience for all consortium members.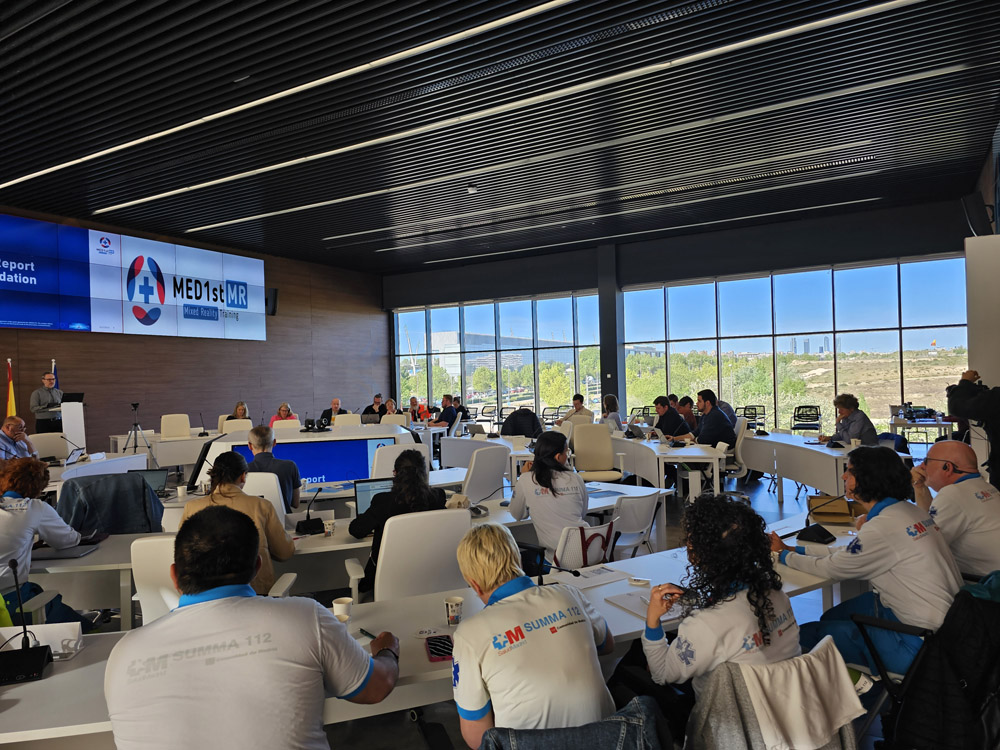 Daniel García Guirao – IDENER